Sutherlin High School is home to the Bulldogs and a comprehensive high school that offers multiple opportunities for our 400-plus student body. From college credit opportunities to vocational and art classes to coding and music clubs, SHS has something for every student.
"It is the mission of Sutherlin High School, in a cooperative and caring atmosphere, to provide the opportunity to become productive, creative, responsible citizens and self-disciplined, lifelong learners."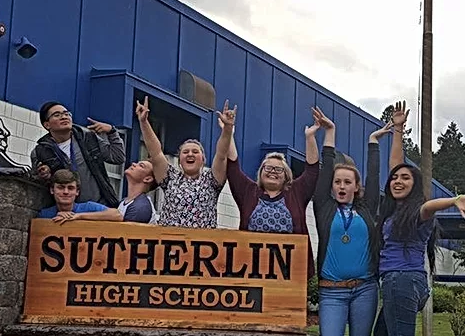 Sutherlin High School is a comprehensive high school located in rural southern Oregon. Sutherlin is located in the Umpqua Valley in Douglas County on I-5, twelve miles north of Roseburg. SHS is the sole high school in the Sutherlin School District. SHS competes in the Sky-Em League. Our athletics program includes the following: football, soccer, volleyball, cheerleading, cross country, wrestling, basketball, baseball, softball, track, and golf. In addition, we have partner soccer, basketball, and softball.
Although our school is relatively small, we work hard to provide as many educational and extra-curricular opportunities for students as possible. Our FBLA (Future Business Leaders of America), FFA/Agricultural Programs, and our Special Olympics program help students to discover and develop their talents and strengths, as well as develop leadership and public speaking skills. We are known statewide, as well as nationally, for our programs in these areas. Since being awarded the grant in our CTE (Career and Technical Education) programs, we have begun to produce various products for the local area that are gaining SHS recognition for our efforts to produce college and career ready students.