Good Afternoon Wonderful West Families! Here are a couple of reminders: 1. No School on Friday 11/19 (Report Card Day) 2. Conferences on TEAMS Monday -Wednesday (No School) 3. Thanksgiving Break (Thursday & Friday) (No School)
Hello West Families: Cookie Doug pickup is Friday, 11/12 from 4:00pm to 7:00pm at West. Just pull up in the pickup line and we will help load your orders. If you are unable to pick up, please make arrangements to have someone else pick up for you.
Good Morning West Families: Thank you to all the Veterans! We are humble and grateful for your service. There is NO School on Thursday. Make sure you send your kids on Friday!
Hey Wonderful West Families! Don't forget to sign up for conference through ParentVue and activate your TEAMS. Call the office if you need us! 547-459-3688
West Families, This year we will be using Parent Vue to have you sign up for a conference time. Parent Vue was used at the beginning of the year to register for school. If you need help remembering your username and/or password, contact the office at 541-459-2912. Conferences will be held by phone or through Microsoft Teams on Monday, 11/22/21 from 8:-4:00, Tuesday, 11/23/21 from 8:00-7:00 or Wednesday, 11/24/21 from 8:00-Noon. To sign up: Follow this direct link
https://parent-sutherlin.cascadetech.org/
it will take you straight to your Parent Vue account. *Click : "I'm a parent" *Login with your username and password *Select your child from the drop-down list in the top left corner. *Under Home on the left-hand side, click "Conference" *Click "Parent Scheduled Conferences" on the right of your screen. *Look on the screen for the day and time that you want for conferences and click to select your one time that you choose. *November 22nd shows up first and then you can scroll down to see the other dates for November 23rd and November 24th. *Choose only 1 time on one day for 1 conference with your child's teacher. Then logout. *The computer automatically saves your conference choice. We can't wait to discuss the wonderful progress your child is making!
Good Morning West Families!! Thank you for supporting our BEST Pumpkin decorating contest EVER! Please help your child bring them home. We will be throwing away any that are rotting or are leftover on Friday afternoon.
Good Evening West Families! Friday is Say Boo to Drugs! Wear your Halloween Costume to school! We will be doing fun activities throughout the morning and ending with a parade throughout the school.
Good Evening West Families! Thursday is Support Each Other to Stay Drug Free! Find a Friend and Dress as Twins
Good Evening West Families! Wednesday is From Head to Toe, I'm Drug Free! Wear a crazy hat, socks, and wacky clothes!
West Families-Tuesday is wear your superhero shirt! Be a Hero, Stand up to Bullies and say No to Drugs.
Dear Families! I would like to remind you of our fun dress up week! Wear Red on Monday! I would also like to ask for your help. Please DO NOT let your child bring toys or fidgets to school. These have become a great distraction to our learning. The teacher will remind the students to put them away and if a second reminder is needed, they will take it away and give it back at the end of the day. If your child needs a fidget to support their learning this is an arrangement that should be made between the teacher and the parent. Thank you for your help.
It has been a great week! Tomorrow - students should wear PE appropriate clothing. We will also have our first PAW rewards experience. We will start dismissal at 11:30. Thank you for all that you do! West is the BEST!
Have a WONDERFUL 4 day weekend Bulldogs! See you on Tuesday!
Hey West Families! WE have had a wonderful time getting to know your child! They are the best!! I just wanted to go over the afterschool pick-up procedures. 1. Whatever you put on your registration for PM pick-up is what we HAVE to do, unless you call before 1:30pm to tell us of a change. Call Taylor in the office, if you have questions. 2. Please do not block driveways as you wait and have your blue sign ready so we can move the line along more efficiently. 3. We will start to start sending students out at 2:30/11:30. 3. No cars are allowed in our parking lot before or after school. It is a safety issue. Please wait in line. 4. If you are walking to pick up your child, please go to the bottom gate. We will call your child to come meet you. Thank you for your patience and giving us grace as we get this new school year started!
Tomorrow is a big day for our 3rd graders! We can't welcome you to West! We will see our 4th and 5th graders on Tuesday! See the website for bus details. Breakfast and Lunch are free. School starts at 8:00 AM. Don't forget your mask!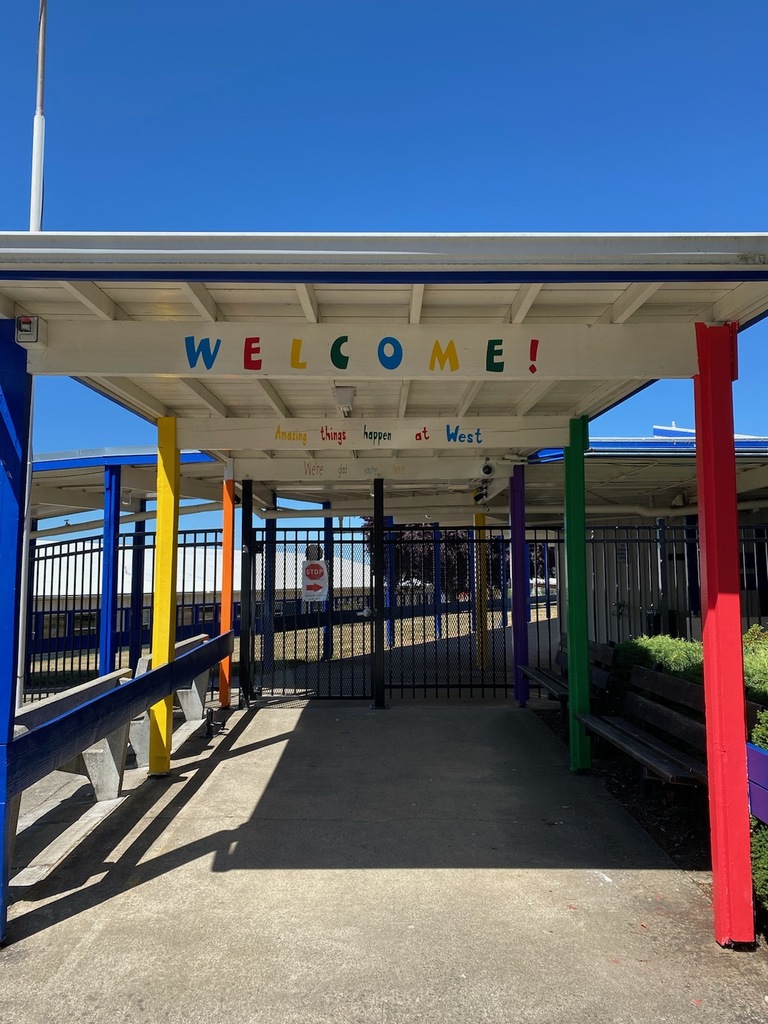 West Families! We are excited to start school! Remember 3rd grade starts on Monday and 4th and 5th grade start on Tuesday. Our school day starts at 8:oo and ends at 2:30 Monday-Thursday and 8:00- 11:30 on Fridays. Don't forget that breakfast and lunch are free for all students this year!
The West is excited to see you on campus! Drop by a for a minute.😊 We will have cool treats, a chance to meet your teacher, and tour the campus.🍦👩‍🏫🗺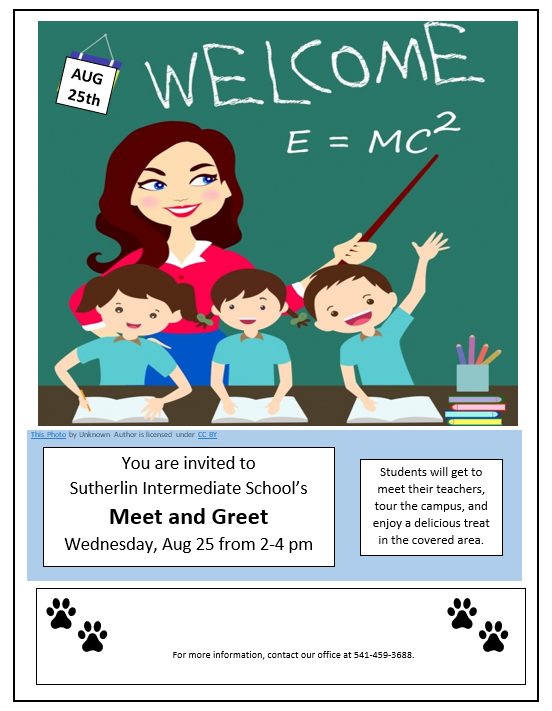 Dear West Families, Welcome to the 2021-22 school year! The staff has been busy reorganizing, moving classrooms, painting, and planning for the first day of school on Monday, August 30, 2021 for third grade and Tuesday, August 31, 2021 for fourth and fifth grade. As you travel by the school, you will notice murals at the end of hallways, street signs, and inspirational thoughts. Our goal this summer was to make the outside the building reflect the joy each and every person at West experiences on the inside. We hope it brings a smile to your child's face! Key Dates and Times:  *Now – Registration opens online (use your current ParentVue account)  *August 10 – West Office is available to assist in online registration (7:30 AM-3:30 PM)  *August 11 – West Office is available to assist in online registration (12:00 PM-8:00 PM)  *August 12 – West Office is available to assist in online registration (7:30AM-3:30 PM)  *August 16 – Regular West Office hours open (7:30 AM -3:30 PM)  *August 23 – West Office closed in the morning  *Monday, August 30 First Day of school for 3rd grade  *Tuesday, August 31 First Day of school for 4th and 5th grade  *No School – Friday, September 3 or Monday, September 6 Remember:  School Supplies: We will be working with PTO to provide school supplies for your child. There will be a $15 school supply fee in the online registration. Backpacks, and head phones are not included, please ensure your child has these items on the first day of school. Some things are already back to normal. We will be having five-day, in-person learning Monday-Thursday 8:00 AM- 2:30 PM and Fridays 8:00 AM – 11:20 AM. As always, there are many details to opening schools, and this year those details will include things like COVID-19 safety measures. I am working closely with the Superintendent, the School Board, and staff to make sure we have the most successful and safe school year possible. Please continue to check our school Facebook and Website for all updated information. In closing, I look forward to meeting and working with each and every one of you. Together, we will create a joyful school community. Please enjoy the rest of your summer. I can't wait to meet you. Warm Wishes, Cary Cermak-Rudolf, Principal 541-459-3688