Happy Thanksgiving! We're especially grateful for our Bulldog Family!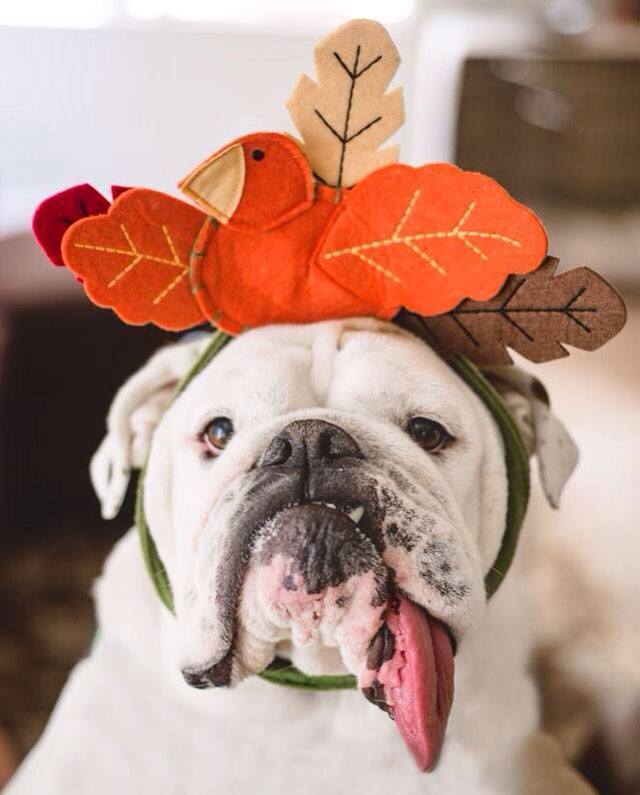 There will be no school tomorrow, November 11th, 2021 in observance of Veterans Day! Thank you Veterans for your service to our country!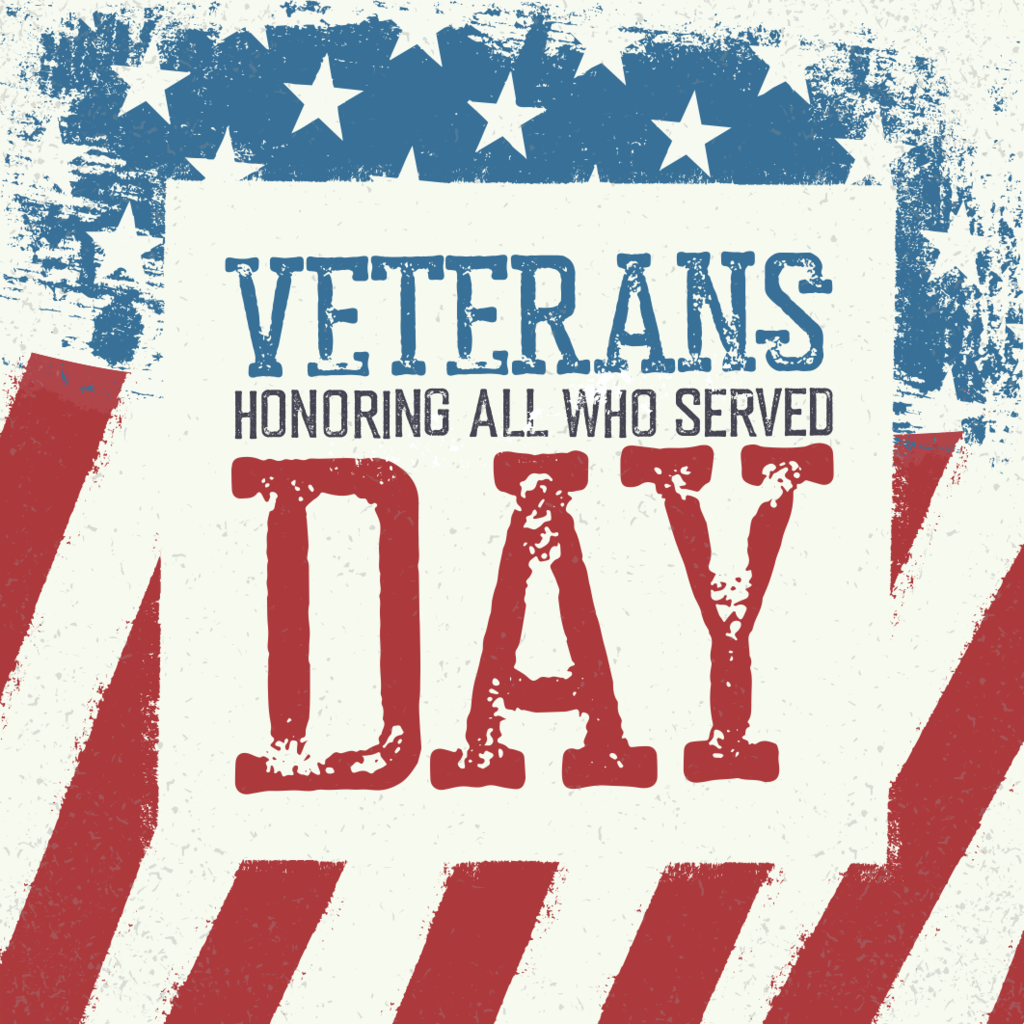 OSAA Playoff Spectator Access • 'Dinosaur' QR code will take you directly to HomeTown ticketing. • Fan App with Directions will help fans sign up on the app. • HomeTown Gate App link . A 2 minute video on scanning.
https://vimeo.com/447343758
• OSAA Mobile App has a QR code to download the OSAA mobile app for tickets, schedules, programs and more.


It's National Literacy Month! Check out the flyer for a promotion happening in the Sutherlin High School library this month!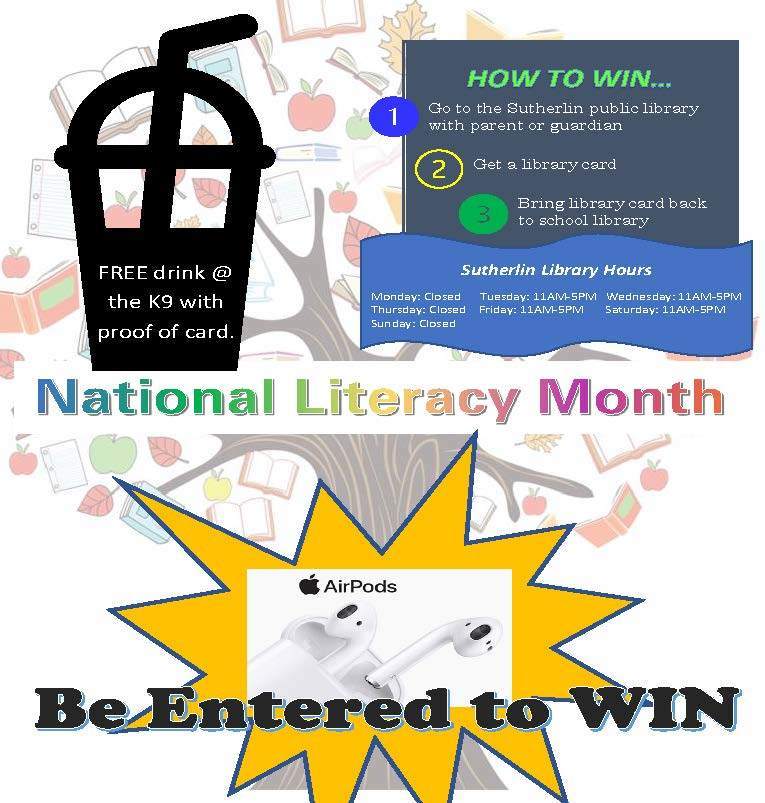 The local National Guard is hosting a couple of events for students this weekend! Scan the QR code on the flyers for more information.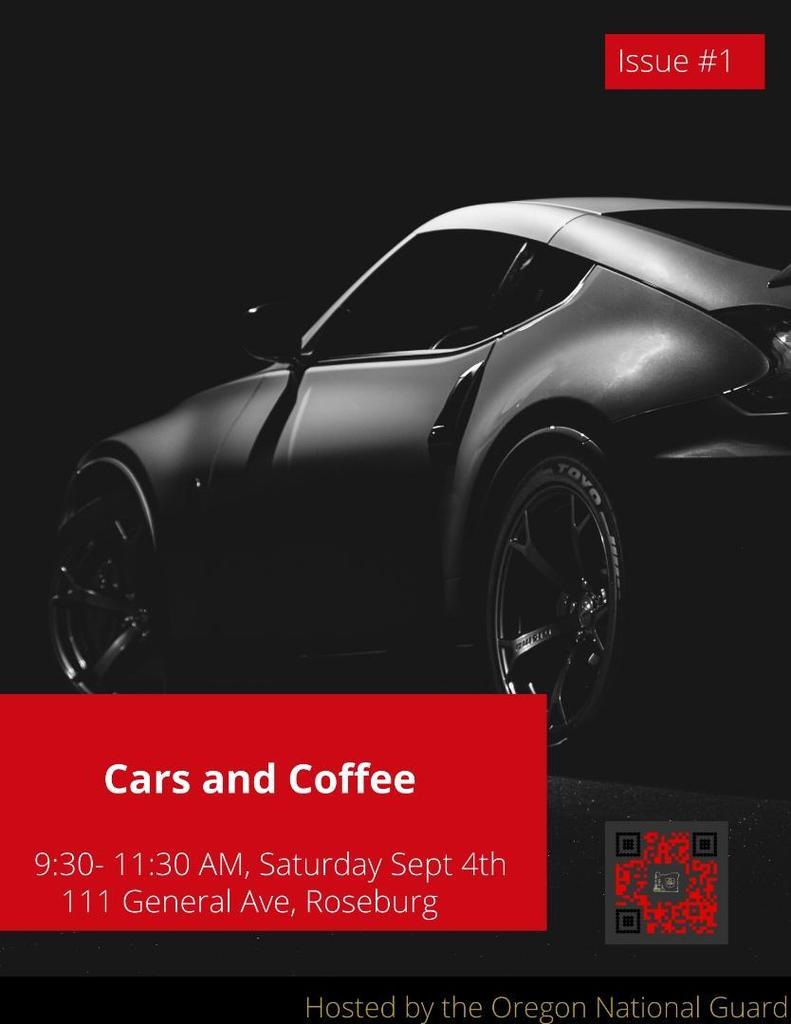 Online registration is now open at sutherlin.k12.or.us! Families new to the district and those who need assistance should call the office or visit campus August 10th and 11th between 8 am and 6 pm.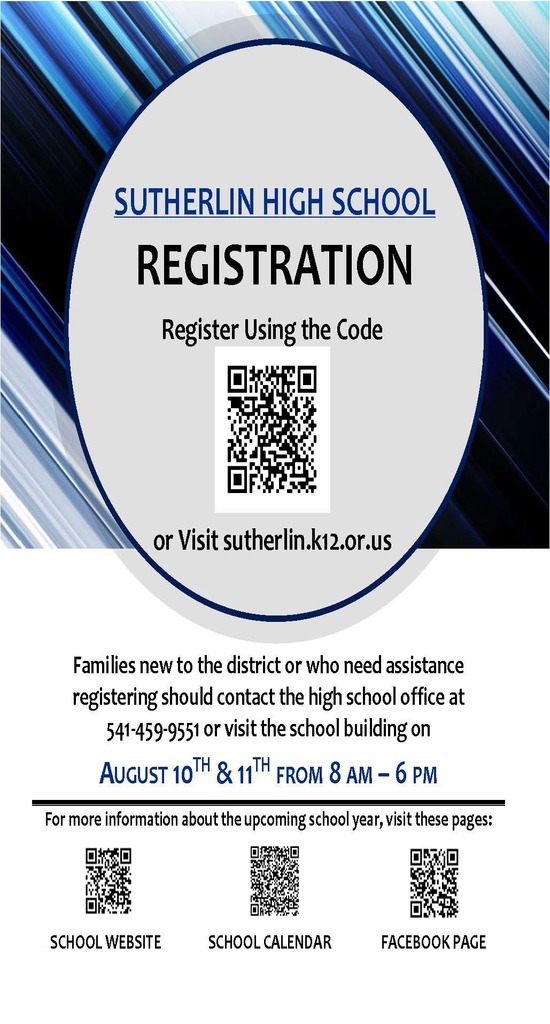 Sports physicals available at Sutherlin High School on August 3, 2021 at 6 pm. The fee is $25. Students entering 6th, 7th, 9th, and 11th grades will need to get a physical. Students new to Sutherlin, or new to athletics will need to get a physical if they plan on participating in sports. Parents are encouraged to attend with their student.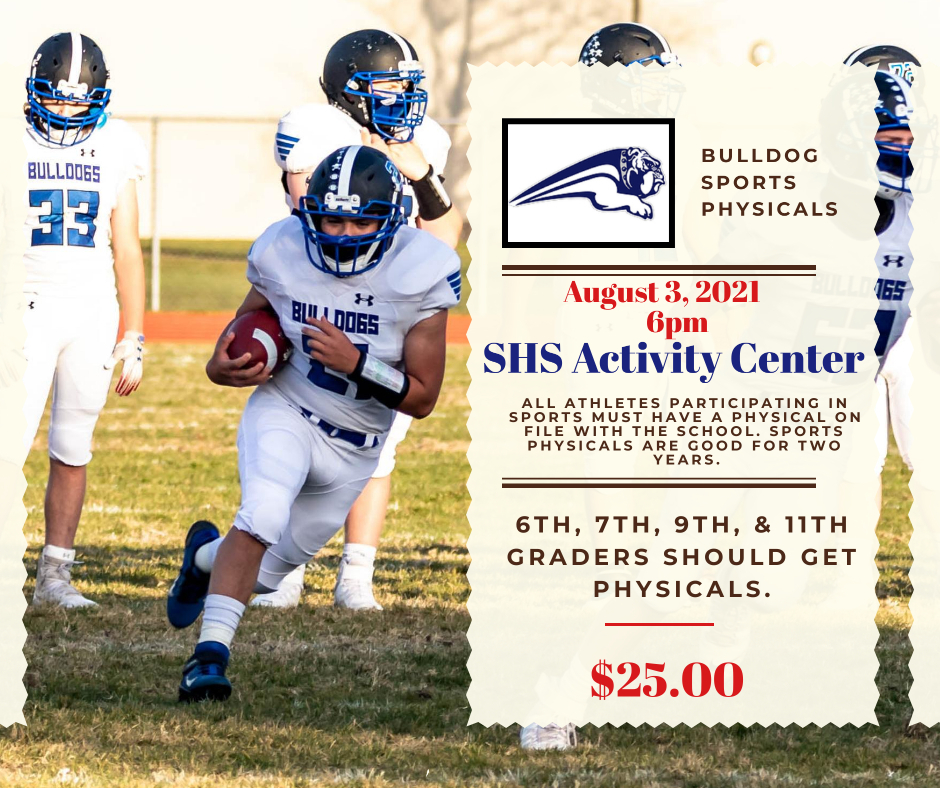 Tuesday, June 22nd Girls Basketball State Playoff Game vs Willamina 6:00 PM @ Sutherlin High School

Free Summer Good Program 2021 Grab and Go Monday - Thursday Middle School Pick up dates and times. June 21st to July 22nd (No meals served on July 5th) Breakfast 8:30 am 9:15 am Lunch 11:45 am to 12:30 pm West Intermediate Pick up dates and times. July 6th to July 29th Breakfast 7:30 am to 8:15 am Lunch 11:00 am to 11:45 am

Sutherlin High School CDL Students Please return Chromebooks, check-in library books and textbooks, and/or pay fees tomorrow, June 15th or Wednesday June 16th in the front office. If you cannot checkout on those days, please contact the front office at 541-459-9551 to make other arrangements.

Sutherlin High School Graduation Parade begins Sunday, June 6th at 12:30 pm! Parade Route: - Begin on Taylor St. - East on Central Ave. - North on Umatilla - Parade will end on Fourth Ave. in front of the high school Come out to join us in celebrating our seniors' success during this challenging year!



In the 2019 Oregon Legislative Session, the legislators passed House Bill 3427, Student Success Act, and it was signed into law on May 20, 2019. This law aims to correct three decades of under investing in our schools and our children and includes sweeping provisions for new and improved services for children and families. Part of this Student Success Act is the Student Investment Account (SIA). The SIA is a non-competitive grant program which, when fully implemented, represents an investment of close to $500 million going directly to Oregon school districts and eligible charter schools. The purpose of the Student Investment Account is to meet students' mental and behavioral health needs, increase academic achievement, and reduce academic disparities for historically underserved students. We would like your input on how to best utilize these funds in order to best serve the students and families in our community. Sutherlin Community Feedback
https://douglasesd.co1.qualtrics.com/jfe/form/SV_243wCLLxcV1itYG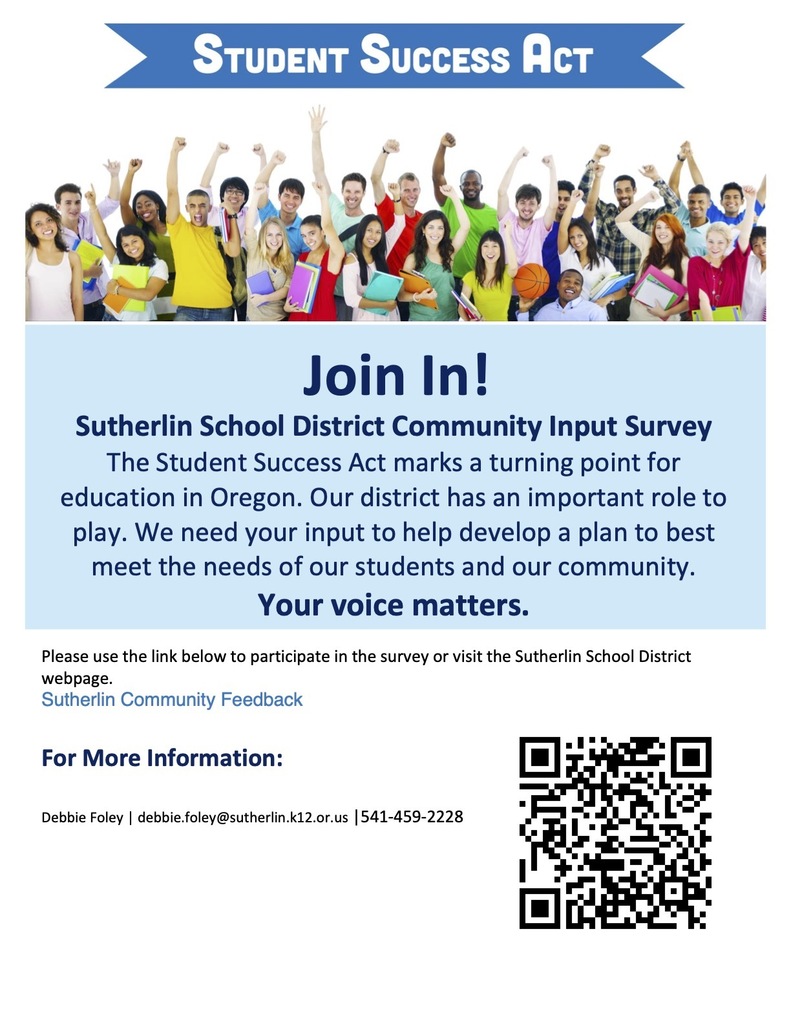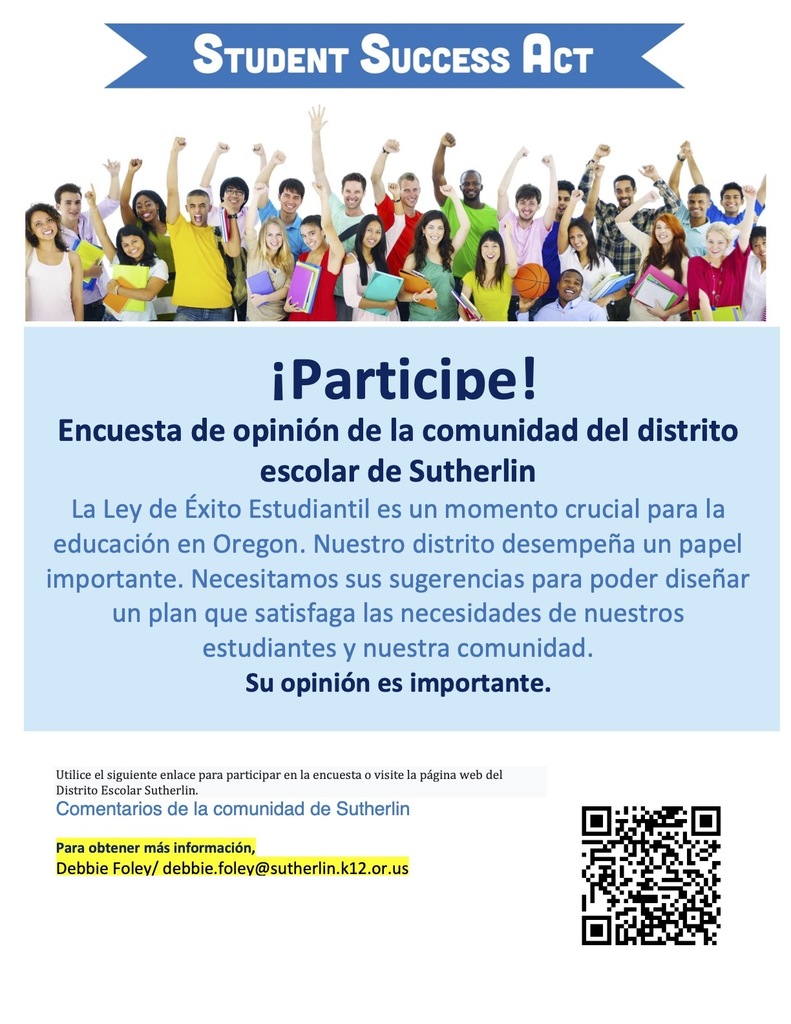 Sutherlin Parents/Caregivers- If you have struggled to get dental care for your student this year and would like a free exam and treatment, the Dental Foundation of Oregon is bringing their full-service dental unit (Tooth Taxi) May 17-20th and they have some additional openings available for our K-12 students. Please contact Andrea Shaver, Family Liaison at 541-459-2912 ext. 3716 or email
andrea.shaver@sutherlin.k12.or.us
for questions and sign-up instructions. Application deadline is Monday 5/17 at 4pm.

Congratulations to the Sutherlin Girls Soccer team. They have been Awarded Academic All‐State for 3A/2A/1A division by OSAA. PDF Link
https://bit.ly/3mPzd9H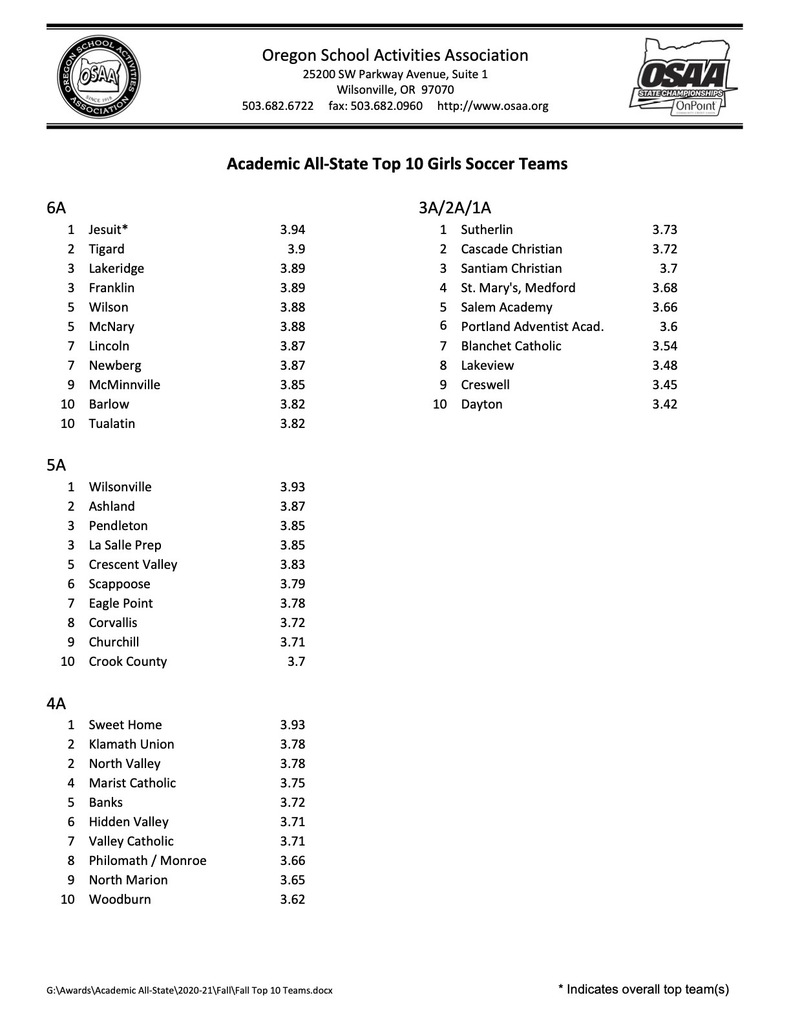 Sutherlin vs Siuslaw High School Football @ Siuslaw Fans attending the High School Football game @Suislaw will be required to buy tickets online to attend. Tickets will be available for purchase online only. Seating is limited.
https://www.siuslaw.k12.or.us/o/siuslaw-high-school/page/siuslaw-on-line-ticketing
Fans will enter on the visitors side. There will be four portable restrooms and a wash stations on the visitor side .